Reviewed by Anne F. Wilson. This review first appeared in The BSFA Review.
"Even worthless things can become valuable once they become rare. This is the grand lesson of my life".
Cara is a survivor. Literally. She is a traverser between 380 alternate worlds, each fractionally different from the next. But she can only travel to worlds where her alternate has already died. Only 8 of the 380 still house living versions of her. All the others have died of natural or unnatural causes. Illness, neglect, abuse, murder. This is because she is a poor child from the deprived area of Ashtown, not a protected citizen of the neighbouring city of Wiley.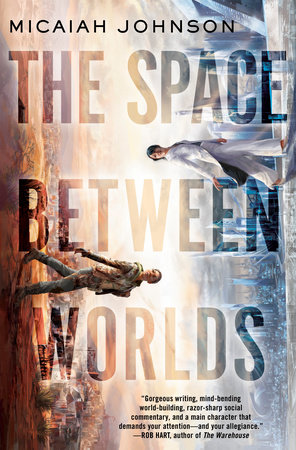 Cara is employed by the Eldridge Institute, headed by the charismatic Adam Bosch. Alone of his alternates, Bosch discovered the technology for travelling between the worlds. Cara's job is data mining on the different worlds. What needs to be changed to achieve a particular effect? Go to the world where it has changed. What is going to happen in the future? Go to a world which is slightly ahead in development. Because she is so rare she is valuable, in that the Institute doesn't have to employ so many other traversers. But her time is running out, as the Institute is expecting an imminent breakthrough that will make traversers redundant.
But Cara has secrets. She isn't supposed to bring back trophies from her visits to other worlds, but she does. She isn't supposed to interact with the inhabitants of those worlds, or get involved in their local disputes, but she does. And it's from these interactions with the alternates of people in her own world, with lives and relationships slightly shifted, that she starts to put together a very different picture of what is happening on her own world, and what Adam Bosch really wants.
I thoroughly enjoyed this novel. It's full-on science fiction, exploring that most fundamental question: "What might be changed?" Cara is a thoroughly believable character: bolshy, rough-edged, insecure. She is brutalised by her upbringing, but she's still human. And in a world where merely surviving is the main aim, or (in Wiley), maintaining or improving one's position, she is willing to act to improve things.
The space between worlds isn't just the space between the 380 worlds that Cara traverses, it's also the space between Wiley, where she maintains a precarious existence, and Ashtown, her birthplace. It is no coincidence that the original inhabitants of Wiley are pale-skinned and fair-haired, and the Ashtowners are black and brown. "People brought for labor, or come for refuge, or who were here before the first neoliberal surveyed this land and thought to build a paradise". It's a dystopia, and in most of the alternate worlds things are getting worse, the gap widening between the privileged in Wiley and those outside, who are prey to brutal gangs and suffer the effects of lack of money, of healthcare, of opportunities.
Johnson is that most excellent of things, a storyteller. I was caught up in the action and kept reading to find out what happens next. The surprises keep coming. The tight focus on Cara's viewpoint means that the author can slide in little bits of information that turn out to be significant later. It's always great to read a novel where what's next is completely unexpected, and yet when it has happened you think: yes, that fits.
I liked the way that Cara develops as a character. She begins the novel as someone who is defensive and belligerent, scrambling not to lose her hard-won place in Wiley. Once she begins to find out the rules that govern her existence, Cara discovers that she can make choices, and unsurprisingly these lead her and others into danger. It is only by using the ingrained knowledge from her harsh upbringing outside Wiley that she has a chance of surviving and saving those that she cares for.
Copyright Anne F. Wilson.