Reviewed by David Lascelles. This review first appeared in The BSFA Review.
It is sometimes weird how coincidence works. I went to the launch of Lost Gods in Manchester, Micah's home city, on a mission to take some photos of the event and decided on the strength of the reading to buy a copy and get the man himself to scribble in it. The next morning, I get the list of BSFA books to review and prominent on that list was Lost Gods.
Naturally, I leapt on the chance to review it. After all, I'd already read the first chapter so I was already ahead of the game.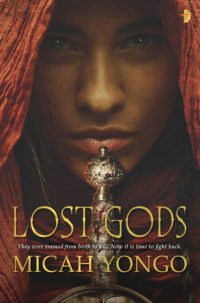 Lost Gods is set in a fantasy realm that is based on stories that Micah loved as a child. This means a mix of Middle Eastern and East African mythology mixed in with a number of typical fantasy ideas. The novel introduces us to a 'Sovereignty' of different countries. Each of them, apart from one, conquered and brought under the aegis of one Sharif or Sovereign hundreds of years ago. The exception, Dumea, maintains an uneasy independence thanks mostly to it being the location of a famous library and the clever diplomacy of a succession of Stewards. There is no religion in the Sovereignty. The first Sharif banned worship of the gods and killed all the priests.
Our story follows Neythan, a teenage assassin. He is a member of a secret order of assassins based vaguely on the real world Hashashin, called the Shedaim. This brotherhood has been used by the Sovereign for centuries to prevent rebellion and unrest and to basically keep the Sovereignty together. We join Neythan as he completes his training and is about to embark on his first 'decree' (assassination) along with his fellow recent trainees – Arianna, Yannick, Josef and Daneel. However, things do not go exactly as planned and Neythan ends up on the run, accused of murdering one of his friends.
What follows is a richly written political thriller set in a fantasy kingdom. Imagine the Bourne films only set in a fantasy Persia rather than modern day Europe and with Bourne replaced by a teenage boy looking for the answers to why people are trying to kill him. Initially, I found some of the political sections a little tedious as they seemed to bear no real relevance to Neythan's plight, which is the exciting central plot and I was keen to see how that progressed. However, as the layers of the deeper background built and the relevance of those scenes began to emerge, you start to see the full story develop. Some of this I was able to predict. However, there were still surprises and twists to be seen.
Neythan himself is a relatable character. Far more mature and competent than many teenagers put in similar situations but that is testament to the training he has endured, which has turned him into an independent person. This isn't Hogworts for assassins, no trustworthy tutors to help out, just Neythan and some people he meets and never fully trusts. He still manages to have some naivete. In fact, you see him develop through the story from loyal assassin to rogue operative reacting to what others are doing to him but not really knowing what is going on and finally to a character who takes control of their own fate. The other characters are also well written and have solid personalities and backgrounds.
Overall, this is an entertaining debut novel and shows much promise for the sequels and is part of an exciting and long overdue recent trend for the stories of Africa and the Middle East in fantasy.
Copyright David Lascelles. All rights reserved