As part of our 2018 Round-Up, Tony Jones gets just a little misplaced in space …
Fans of a certain vintage will have grown up following the adventures of the Space Family Robinson who were very much Lost in Space … though this involved being (mostly) trapped on a strange alien world, which happened to be prone to eccentric visitors. Child prodigy Will Robinson often took centre stage, trying to find the best in the conflicted villain Dr Zachary Smith, and often relying on the protection of The Robot.
The original Lost in Space was first aired between 1965 and 1968. If we skip quickly past the 1998 film, in 2018 it was the turn of the Netflix behemoth to reboot the show over ten expensively made episodes. Is it worth a watch, and – perhaps more importantly – is it still really Lost in Space?
The Robinson family persist, though it's a more complex setup with Maureen and John now somewhat estranged and Judy being Maureen's daughter by an earlier relationship. Maureen is very much a central heroic figure, scientist and leader, but she also has flaws – as shown by how far she is prepared to go to ensure Will can accompany the family into space.
If the family are updated, so too is the character of Don West, now a smuggling engineer rather than a Major who pilots the Jupiter 2. We still have the Jupiter 2, but now it's a very well-equipped ship carried aboard a huge colony ship, The Resolute. As the show opens it's not long before alien robots attack and the colonists must flee The Resolute to an unknown planet.
So far, so similar, and there's even a Dr Smith – though this is a female psychopath played with dark chill by Parker Posey, and she's really June Harris, who has taken Dr Smith's identity for her own reasons. If that wasn't enough to follow, the real Dr Smith is played by Bull Mumy, who played Will Robinson in the original TV series.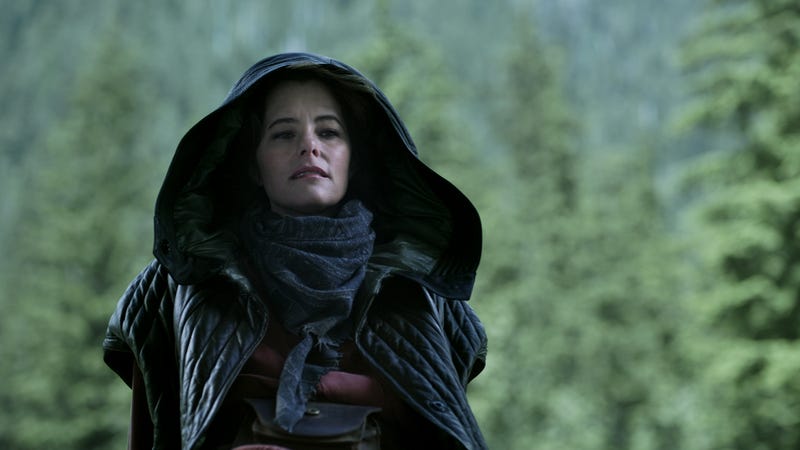 Once on the planet Will finds and befriends an all-powerful Robot who is a great piece of CGI but not quite in the spirit of the original. Will himself though is very well written and performed, and very much a real Will Robinson, if that means anything.
So, this reboot has the main ingredients, and sets them on a threatening alien world with a problem – it isn't viable in the long term. There's lots of shenanigans about fuel supplies, treachery and angst and one major difference from the original: the Robinsons aren't alone!
Yes, the planet is temporary home to dozens of other Jupiter ships and their crews. This gives the central cast plenty of other characters to interact with, without resorting to the original show's device of random aliens just arriving every week. There's also a bigger story hidden in the background as we slowly learn why The Resolute was attacked, who the Robot is, and how far Dr Smith will go in her deceptions and her lust for power. Her character is consistently well written, and is one of the show's real strengths.
The Robinsons' interactions drive a lot of the episodes, either reacting to Dr Smith's machinations, or attempting to escape from the planet, and there are plenty of opportunities to explore backstory, and for Maureen and John to build some bridges. If some of the main characters are updated, this feels less of a departure from the spirit of the original than the failure to leave the Robinsons isolated. But. Yes, there's a but in the form of a (spoilers) new attack by super alien robots, some narrow escapes and – just as a happy ending looks possible – a surprise turn of events which does indeed leave the Robinsons and the Jupiter 2 truly lost in space.
Tony Jones has dined with royalty, supped slings in Singapore and been taught by several Nobel prize winners (though he could have paid more attention). He is a writer and blogger based in the early 21st century.