By Nick Lowe, part of our ongoing look back at 2018.
It's been quite a wait, but the fiftieth anniversary of 2001 – an event exhilaratingly marked by the theatrically-released "unrestoration" and Michael Benson's ample new making-of book – was also the year that finally saw an sf film take the Oscar for Best Picture. And as it turned out, The Shape of Water was about as 2018 as a film could get: an unrepentant genre nerd-out with a sincere and completely unapologetic passion for the history of sf cinema and its transgressive political power to represent transhuman desires, give voices to the silenced, and enlarge humanity by embracing monstrosity. The making of monsters was a preoccupation of films as different as Sorry to Bother You, Wildling, Smallfoot, The Titan, Overlord, and The Cured, while the unjust monstering of non-human others played out in films as different as Bumblebee, Rampage, Isle of Dogs, Jurassic World: Fallen Kingdom and Luis and the Aliens, with full-on alien romances in How to Talk to Girls at Parties and Russian extravaganza Attraction, and in the other direction Beethoven thwarting interstellar genocide in weirdo British two-hander Native.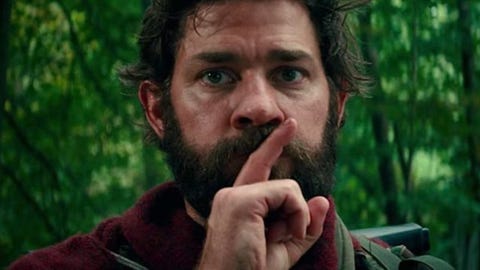 And though there were orthodox creature horrors as well, with A Quiet Place and The Ritual at the smart end and Bird Box at the dumber-than-dumberer, there was a close relationship between superhero and monster pictures, with heroes turned into monsters turned into heroes in the likes of Venom, Upgrade, and Ralph Breaks the Internet – and a brave if somewhat audienceless costume drama about the birth of sf itself in men being monstrous to women in Haifaa Al-Mansour's Mary Shelley.
The global market continued to overturn Hollywood commercial wisdom, with del Toro's own Pacific Rim franchise defying lukewarm domestic reception to score a sequel, and a continuing rise in critic-proof transPacific hits like Venom and The Meg, while at the other end of the scale longstanding sf cinema auteurs themselves locked in a tussle with small-screen streamers. Alex Garland channeled Tarkovsky for his haunting Southern Reach adaptation Annihilation, only for a nervous Paramount to kill it off theatrically by dumping international rights to Netflix (alongside The Cloverfield Paradox, for which even streaming was frankly too good).
Andrew Niccol's visually rich, narratively so-so Anon suffered a similar fate; and while it's gratifying that Justin Benson and Aaron Moorehead's superb indie mystery-twister The Endless got a streaming pickup, it should ideally be watched with its copious and hilarious DVD extras, and followed by at least one viewing of its (non-streaming) companion piece Resolution. Actual Netflix originals were uniformly excruciating, though they allowed Duncan Jones to get inexplicable obsession Mute out of his system at last, and prolific Arrival screenwriter Eric Heisserer to cash cheques for the wretched Extinction, which eventually arrived without his name on, and Bird Box, on which he wound up embarrassingly with sole credit.
While most of the year's sequels and reboots did well, there were high-profile casualties. The Star Wars franchise continued its creative freefall with the unhappy and underperforming Solo, which seems to have killed off the standalone film "adventures" as a side business. Shane Black's The Predator also failed to jump-start its stalled brand, while franchise-aspirant adaptations of beloved teen novels proved something of a money pit, with the gloopy A Wrinkle in Time and the rather good Mortal Engines both tanking badly, and the once-mighty YA-franchise money-printing machine sputtering to a standstill with the delayed Maze Runner: The Death Cure and non-starter The Darkest Minds. Gigantic multiversal IP mashups spread outside their home zone of comics to give us the pop-culture nostalgiaverse of Ready Player One and the gamed-up Disneyweb of Ralph Breaks the Internet; while an outbreak of actor-friendly body-sharing dramas included Venom, Upgrade, Duplicate, and the beguiling Every Day, which adroitly masked its rampant queerness as innocent teen fantasy romance.
Meanwhile, superhero cinema continued to defy proclamations of exhaustion and oversaturation to produce an impressive slate of hits and at least one bona fide gamechanger – though it's symptomatic that four of the year's nine (Deadpool 2, Incredibles 2, Teen Titans Go! to the Movies, and Spider-Man: Into the Spider-Verse) were winky ironic takes on the tropes of the genre and their own inherited megatexts, while Ant-Man and the Wasp and Aquaman both leaned heavily on their comedic elements to sell their more out-there sf concepts, and even the lavishly cosmic Avengers: Infinity War reliant on its comedy sub-troupe of Guardians and Asgardians to do most of the interstellar fun. To widespread astonishment, Sony's constricted leftoververse of Spider-Man villains and hangers-on produced a huge global hit in Venom and a zippy, hypervisual everyone-pleaser in Spider-Verse.
But even in the year of the finger-snapping, universe-busting Infinity War, it was T'Challa and Miles Morales who became the year's Marvel breakouts, in what proved a landmark year for African-American filmmakers – with Ryan Coogler and Ava DuVernay commanding gigantic sf tentpoles, Boots Riley finally getting Sorry to Bother You to the screen, and Gerald McMurray's The First Purge pulling a hitherto queasy and exploitative franchise into the darkness of near-present inner-city Trumpland (vacating a space for Hotel Artemis to squat with its violent but depoliticised spectacle of white people under siege while the system burns). A big year, and a long time coming.
Nick Lowe is a Reader in Classics at Royal Holloway, University of London. He writes the long-running and award-winning movies column Mutant Popcorn for Interzone.