By Jo Lindsay Walton
I'm just back from Productive Futures, a three-day conference organised by the LSFRC (London Science Fiction Research Community1) at Birkbeck University.
Productive Futures was definitely an academic conference rather than a fan convention, but it was an academic conference with several twists: there were plenty of engaging presentations by non-academics; there was a little table with freebies and merch; writing workshops from Verena Hermann and  Oliver Langmead + Thomas Moules; discussion with Jordi Lopez-Botey about the Senate House Boycott and his other work with the IWGB (a new kind of union representing traditionally non-unionised workers such as low paid migrant workers and workers in the "gig economy"); a panel of publishers and literary agents discussing both economics in SFF and the economics of SFF publishing which was a lot better than it sounds2; an associated not-really-part-of-the-conference-but-kind-of event at the Science Museum; Sinjin Li's conference booklet and ephemera that added up to an immersive work of art; a roundtable with two SFF author Guests of Honour, Aliette de Bodard and Zen Cho3; and probably more I'm forgetting. The excellent keynote lectures from Joan Haran and Caroline Edwards reinforced the inclusive, outward-facing, and politically engaged ethos.
The theme of the conference was economics and SFF (coincidentally also the theme of a recent Vector (#288)). From the intro to the conference booklet:
The history of Science Fiction is a history of unreal economics. Spanning asteroid mining and interstellar trade, robotic workforces and post-scarcity futures, SF offers ways of reimagining the economics of this and other worlds. Oscillating between the tragedies of neocolonial technocapitalism and the utopian futures made thinkable by a radical redistribution of resources, the novels, films, exhibitions and thought experiments that we will discuss across these three days establish SF as a genre which can and must be understood in economic terms.
So yeah, you might be forgiven for imagining economics just means money and trade, but the conference put paid (pun intended) to that notion: ecology and climate also became a huge theme over the three days; so did work, including unpaid forms of work; so did kinship and family, including polyamory and consensual nonmonogamy; so did infrastructure, including the digital infrastructure of the internet.
If you have a twinge of FOMO, there is some good news: LSFRC also stands for the Live-tweeting Shockingly Fast in Real-time Community. The absolute virtuosos of the art of conference live-tweeting are … well, you'll see: check out the #unrealE hashtag, with a smattering of tweets under #productivefutures and #lsfrc2019.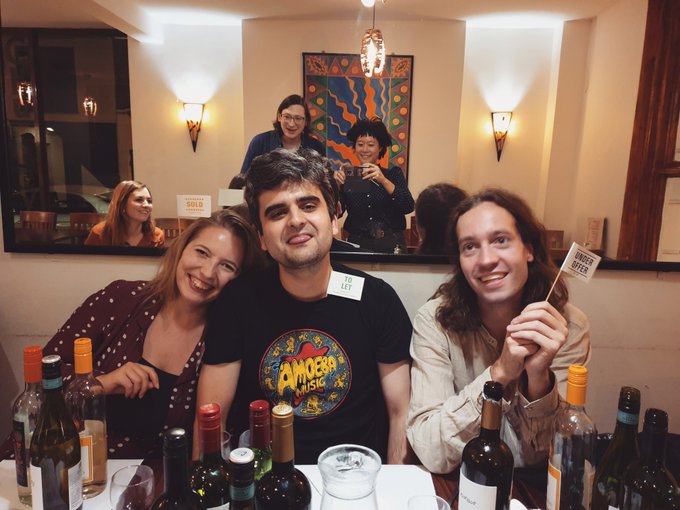 A few more things:
We don't have a conference report lined up for Vector, but if anyone would like to write one, or just share less formal impressions and thoughts, Vector will be very happy to host.
The LSFRC is an organisation of SF scholars and fans, led by graduate students based at Birkbeck and Royal Holloway. The LSFRC organises conferences, events with guest speakers, film screenings, and a monthly reading group in London. The best place to keep track of them is Facebook, and they're also on Twitter, and have a website. LSFRC was formed in 2014 by Rhodri Davies, Andrea Dietrich, and Aren Roukema, and the current directors are Rhodri Davies, Tom Dillon, Francis Gene-Rowe, Katie Stone, and (as of now!) Sasha Myerson. In a short time LSFRC have really established themselves as an amazing force in SFF studies in the UK and around the world. Productive Futures was a seriously international conference, with attendees from the US, China, India, Germany, Finland, the Netherlands, and elsewhere, as well as one or two remote presentations from folk who couldn't be there in the flesh. The organisers also worked to make the conference accessible and inclusive — although there is always more than can be done — with essentially a "pay what you or your institution can afford" approach to attendance fees.
The LSFRC's theme for this year was political economy. The theme for the coming year is borders.
---
Footnotes
(1) AKA the Large Science Fiction Community, apparently. Also Lustrous, Livid, Lionhearted, etc. I should probably also mention that I played a very minor role in organising the conference, which mostly consisted of emailing "Haven't read this properly but I agree" from time to time, and on one occasion messing up the travel budgets while very merry on Rhodri Davies' homebrew.
(2) I have been to some boring publishers' panels, okay? This one was great: it was deftly moderated; most of the panellists arrived well-prepared; there was nimble hat-juggling as pretty much everyone spoke both as professionals and as fans of SFF; there was nuanced consideration of different kinds of publishing; there wasn't the assumption you sometimes get that the audience is hungry for tips on "success," or that commodified and commercially successful SFF is the SFF that really matters. For me, the only bum note was Jo Fletcher's response to a question about the representation of working class voices in speculative fiction, which didn't really address the specific question, and also definitely edged toward disheartening "I don't see colour" territory. It was however good to hear from Jo about Hachette's Changing the Story initiative, which is reflecting critically on the industry's lack of diversity and creating concrete opportunities for BAME people and others. (Diversity, of course, isn't yet decolonising, and diversity-oriented thinking can even sometimes impede decolonisation! But the tensions between diversity and decoloniality should be seen on a context-by-context basis, and my hunch is within contemporary publishing a focus on diversity is still extremely useful to the wider and deeper projects of decolonisation).
(3) The third Guest of Honour, Tade Thompson, had to drop out. Maybe next year?