By Gary Couzens.
As I've done in past years, this won't be a comprehensive overview of genre films and television of 2019. Instead, this is a selection of titles which are worth your attention. All were commercially released or reissued in the UK last year.
If in Groundhog Day it was Sonny and Cher's "I Got You Babe" which heralded its protagonist's recurring day ahead, in Russian Doll (on Netflix, eight episodes of just under a half-hour each) it was Harry Nilsson's "Gotta Get Up". It's Nadia (Natasha Lyonne), again and again in the bathroom of her friend's apartment while her own birthday party goes on. A cynical, New York thirtysomething, Nadia certainly has her share of damage, manifesting itself in casual drug use and equally casual sex. At the end of today, Nadia will die, she finds out … and then she's back in that bathroom with Nilsson on the soundtrack. After several go-rounds she finds Alan (Charlie Barnett) in the same predicament. 
Although she was one of three creators (along with Leslye Headland and Amy Poehler), Lyonne dominates the show. She wrote and directed the final episode and co-wrote another. Her chartacterisation inevitably brings resonances of her own personal history, including publicly-known issues with substance abuse. It's a commanding performance in a miniseries which works out its premise in several interesting ways. The music works perfectly, from Nilsson at the outset to Love's "Alone Again Or" in the final scene. A second season is on its way.
I Am Mother hails from Australia, though as with quite a few Australian films (for example, the Spierig Brothers' Predestination), that might not be obvious, despite the presence of Australians in the cast. For the most part, this film is a three-hander. We're in a bunker after some kind of extinction event, and Daughter (Clara Rugaard) has been brought up from an embryo to her present teenage state by a robot called Mother (voiced by Rose Byrne). Daughter cannot go outside as that would be lethal, but unconvinced, Daughter does so …
The third significant character is a woman (Hilary Swank) whom Daughter encounters when she leaves. None of the characters are named. It's an all-female cast apart from the robot operator (Luke Hawker) and a baby, with the only male voices being from a video of The Johnny Carson Show that Daughter watches (although the film seems to have fallen under the radar of those who object to so-called "forced diversity" in their films). I Am Mother is a little long at two hours, and does go down a conventional route towards the end (the title is a clue), but is certainly worth a look.
Over to France, and the Oscar-nominated animated feature I Lost My Body (J'ai perdu mon corps). Naoufel is a not-very-good pizza delivery boy who is smitten by librarian Gabrielle when he tries to deliver her order. He pursues her in a way which more than borders on stalking. Meanwhile, a severed hand wakes up in a laboratory and begins a journey across Paris, battling rats and ants and a dog along the way, to find its owner. How the two plotlines are linked you find out near the end.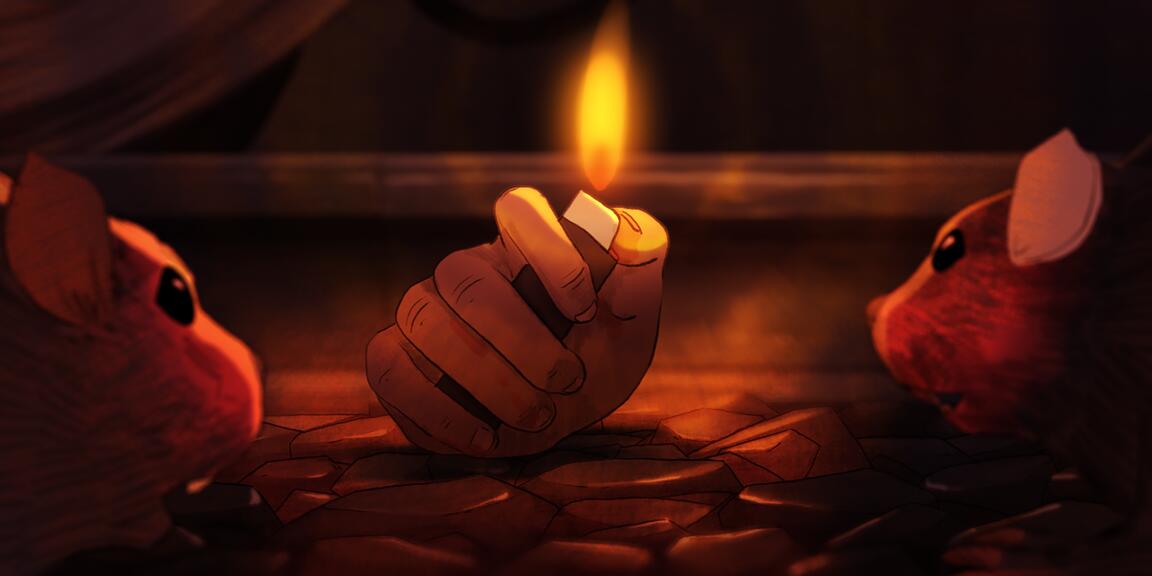 The film is certainly ambivalent about its central character, and Gabrielle doesn't become aware she's met him before until late on. But the real hero of the film is that disembodied hand, and the animation is impressive. Hakim Faris and Victoire du Bois voice the lead roles in the original French, but Netflix (who acquired the film) also have an English version featuring the voices of Dev Patel and Alia Shawkat.
Physical media may be on the way out in favour of streaming, but it's not dead yet, and impressive Blu-ray editions of classics, not-so-classics, cult films and rediscoveries, continue apace. There's also the issue that international audiences might consider films classics that a local audience wouldn't, and vice versa. The White Reindeer (in Finnish Valkoinen peura and Den vita renen in Swedish – the credits are in both languages) won a prize at Cannes in 1953 but you have to wonder how many film watchers outside Finland will be aware of it, or until now have had an opportunity to see it even if they had. However, now you can, thanks to a 4K digital restoration and a UK Blu-ray release.
The White Reindeer, directed and photographed by Erik Blomberg, takes us back to the distant past and snowy Finnish Lapland, strikingly shot in black and white, in a story derived from folklore. Pirita (Mirjami Kuosmanen) is married to reindeer hunter Aslak (Kalervo Nissilä), but he spends too much time away from her.  She visits a shaman in an effort to rekindle his passion. However, it has an unexpected result, turning her into a shapeshifting white reindeer. Admirably concise at 68 minutes, The White Reindeer sticks in the mind.
Also digitally restored and released on Blu-ray, World on a Wire is a (West) German television miniseries, two parts of around 100 minutes each, from 1973. Rainer Werner Fassbinder in his prolific career moved between the stage, the cinema and television. This was his only excursion into science fiction, adapting Daniel F. Galouye's novel Simulacron-3. If it were made nowadays, you'd suspect this series would be called World in the Cloud. In contemporary Germany, in an Institute, a supercomputer is host to an artificial world. In this virtual reality, nine thousand "identity units" live their lives as human, unaware that they are in fact simulations. A mysterious death happens and the Institute's security chief disappears, with no one being aware he even existed. Fred Stiller (Klaus Löwitsch) investigates. He visits the simulated world, but is the real world simply another simulation? Made on a small budget, World on a Wire is a story of ideas rather than visual effects, and those ideas have become more mainstream now than when it was made. Stylistically, it doesn't have the Brechtian theatricality of Fassbinder's earlier work, nor the highly-coloured Douglas Sirk-style melodramatics of his later work, though many of his regular cast and crew are present. It's an oddly-placed item in Fassbinder's work, but certainly worth seeing as an example of non-anglophone television science fiction of its time.
Finally, science fact. Apollo 11 is not strictly a reissue, but is a showcase for recently-found and restored 65mm footage shot before and during the first mission to the Moon. The story of this documentary is likely to be familiar, telling as it does the story of the first Moon landing five decades ago. However, it's the new footage which is the star, though given that the large-format cameras remained on Earth, it only appears in the first part of the film and at the very end at splashdown. The rest of the film is told with footage from the time as well, mostly 16mm, but that's inevitably quite grainy especially on a large IMAX screen. There are two versions of this film, one just over three quarters of an hour (the First Steps Edition), distributed in IMAX film prints at suitable venues (I saw it at the Science Museum in London, and it looks spectacular) and an hour-and-a-half version given a conventional cinema release.
Gary Couzens is a long-time contributor, reviewing films and television for The Digital Fix. Since 2016 he has written the Blood Spectrum film review column for Black Static, which was shortlisted for the 2017 BFA Non-Fiction Award.