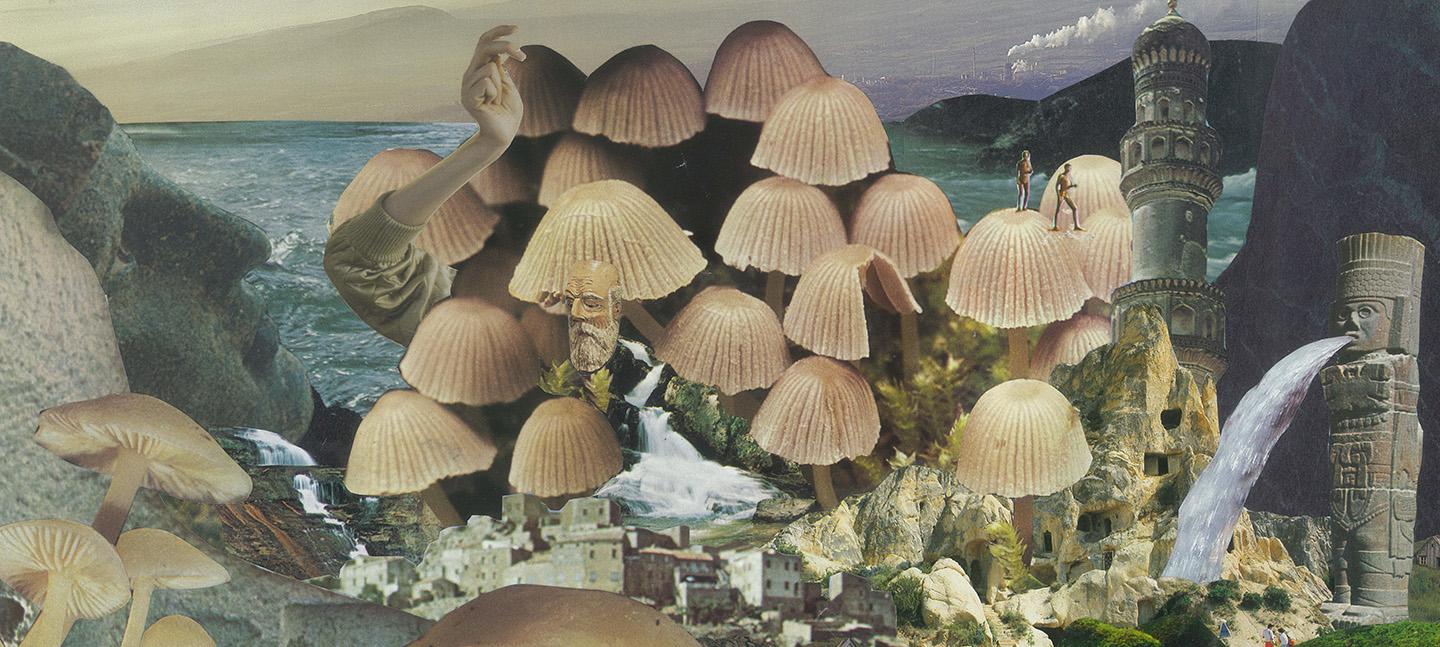 Reviewed by Bethany Garry
Mushrooms: The Art, Design and Future of Fungi, curated by Francesca Gavin, can be seen at Somerset House until the 26th of April. It is part of The Charles Russell Speechlys Terrace Room Series and is free to visit. 
Mushrooms and fungi have a specific place in the imagination as strange and otherworldly, often associated with the fantastical or magical, but Gavin's exhibition on the "future" of fungi posits them as significantly more science-fictional than fantastical. They are a technology – for use in the future of fashion, biotechnology or ecological industries, or an alien – an unexpected invader via decay or rot, part of the aesthetic that makes a landscape feel truly not of this world. The exhibition achieves this through the mix of mediums, beginning with some of Beatrix Potter's botanical illustrations of mushrooms and fungi, and progressing through dance (in video form), textile arts, sculpture, collage, fashion, and an extensive display of books. 
The effect is an exhibition that feels unfinished, if visually engrossing. Amanda Cobbett's sculptures of mushrooms, perfectly rendered in thread and paper, are an illusion good enough to trick you, and Seana Gavin's collages are alien worlds where mushrooms form otherworldly buildings, or fungi have unsettling human features. The small setting of the exhibit gives little room for in-depth exploration, and its high goal is undermined a little by the content. A display of mushroom-focused non-fiction literature amounts mostly to a display of book covers, which maybe spark thoughts but ultimately feel superficial. However, for a mushroom lover or for those interested in how the natural world can be positioned in a futurist mindset, it's a fun way to explore how many different artists have used many different mediums to explore the world of mushrooms and fungi. 
While the first two rooms of the exhibit largely explore mushrooms as an aesthetic or fascination, the final 'Futures of Fungi' room positions mushrooms as a future technology, one that humanity has not yet fully exploited, with potentials unexplored, with displays including experimental leather made from mushroom, and a typeface generated to 'spore' organically as mushrooms do. The strangeness of mushrooms, their in-betweenness between plant and animal, their interconnectedness, are all ways in which they challenge humanity to experiment with their potential. Not all science-fiction, after all, is an exploration of an alien world. Some are discoveries of the strange in our deep seas or our high peaks. Perhaps the next frontier is neither, but instead will be the forest floor.