Reviewed by Shellie Horst. This review first appeared in The BSFA Review.
In the acknowledgements, Agnes Gomillion gives credit to Paul Stevens 'for finding value where others did not.' I for one am thankful that someone did see a future for The Record Keepers. My only disappointment is that it's taken me so long to discover it. She also acknowledges Mr Frederick Douglass, from this you can be reassured that The Record Keepers has intensely strong foundations.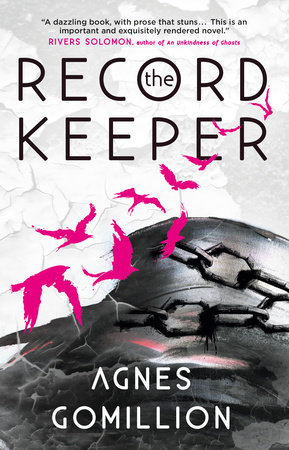 The powerful blend of African culture with western consumption set up in a world supposedly devoid of technology makes The Record Keepers a provocative, satisfying read and everything I have come to expect from a work published by Titan Books.
After World War III, Earth is in ruins, and the final armies have come to a reluctant truce. Everyone must obey the law—in every way—or risk shattering the fragile peace and endangering the entire human race.
Arika Cobane is on the threshold of taking her place of privilege as a member of the Kongo elite after ten gruelling years of training. But everything changes when a new student arrives speaking dangerous words of treason: 'What does peace matter if innocent lives are lost to maintain it?' As Arika is exposed to new beliefs, she realizes that the laws she has dedicated herself to uphold are the root of her people's misery. If Arika is to liberate her people, she must unearth her fierce heart and discover the true meaning of freedom: finding the courage to live—or die—without fear.
In this post war world, everybody has their place in the new order. The few who question it are reminded that their sacrifice is for the good of the people. Arika is plucked from her crib, and by comparison to those in the surrounding village, enjoys an easier lifestyle. However, she's not protected from cruelty. Safety is found by giving practised answers – staying in your lane if you will. Stepping out of line results in violent punishment.
Gomillion recognises that her readers need to understand the powers at play. Because of this, you realise The Record Keepers isn't a stand-alone novel. It's an epic stuffed with potential – much like Arika herself. This all makes for an addictively quiet yet tangible build throughout the first half of the book. 
The premise of an African territory set in America is unfamiliar, also a worryingly accepted lead into Arika's world. The challenge the author offers is intelligently crafted, neatly questioning the certainties of life, the roots of colonialism, and the roles we choose around it. 
Arika's wilful and selfish decisions to ensure her seat in the senate drive this book well, to the point of alienating the reader. Arika throws herself into her education, keeping herself away from trouble and the usual playground social battles. She has a single understandable and far-reaching goal, and when she learns of The New Seed she doesn't sway from it.
Just when you think you know where Gomillion is going, she switches pace, and what could have passed as a fantasy novel reveals itself as complex science fiction. Arika's character is the strength which radiates throughout the novel. William provides a counterbalance in his steadfast passion to his duty. 
Rebellious factions are a threat to the scholarly ways Arika considers normal, but her intellect and fierce desire to do the right thing (even when it's wrong) leads her through love interests, betrayal, her past coming back to her and attacks. Both despite Arika's choices and because of them, I found myself hooked.  
The Record Keepers is a story of balance, and there's a great deal of life hanging on Arika's actions. Arika's growth throughout the book suits the Young Adult, every chapter subtly complex giving you much to contemplate. There is so much here for the Adult shelf too, 'grown-ups' will be missing out.
It's refreshing to find a book that adheres to its premise, The Record Keepers is outstanding, I don't doubt the adaptation to the screen will be powerful and the series will be up for awards. Highly recommended.
Copyright Shellie Horst. All rights reserved.